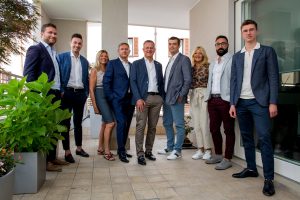 Our society was founded in 1990 and is specialised in the commercial representation in the water-sanitation and bathroom furniture industry.
Our activity is the result and continuation of the thirty-year-work experience of the founder, Arnaldo Lampugnani. Today we are still committed to operating with the utmost effort and passion to best represent our principals in northern Italy.
In addition to sale service, we have also implemented consulting, promotion, training and information services – and this gained us our principals' and customers' satisfaction for more than thirty years.
What we offer: three features that identify us
PROFESSIONALISM: Our companies know that they can rely on us. Our representatives are highly qualified and have a deep knowledge of the represented products. Thus, they ensure an efficient and targeted service. We know who we represent and get the job done with utmost pride and passion.
Our customers know that we are their referral source; we ensure support and technical assistance all the time.
We will never forget that our job is the commercial mediation. Between whom? Our principal and our customer.
CLARITY: We keep a direct and steady feedback with our principals, who can rely upon a real market view. Our team is committed to highlighting potential opportunities and weaknesses to be enhanced through constant dialogue with customers and market performance analysis. This way companies can always be given updated information.
We are clear with our customer, to whom we explain our mission and the added value of the represented company products.
AVAILABILITY: We put ourselves out there; our customers are offered availability and flexibility, but we do never forget accuracy and honesty.
Our sales representatives are always at your disposal. Moreover, at our office, Emanuela and Graziella will clear up any doubts and manage your requests.